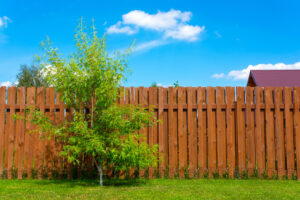 Choosing the right type of fencing for your home and property can be difficult, and every homeowner has a unique set of needs when it comes to fencing in their property. Which fencing material best suits your own needs as a homeowner? Here is a look at different personality traits you might exhibit as a homeowner—and at the types of fencing that correspond to each personality trait.
Low maintenance
Are you a person who thrives on being low maintenance and on streamlining the things you have to do on an everyday basis? If so, then vinyl might be your best bet for fencing. Vinyl is the lowest maintenance fencing material out there. You never have to sand it, stain it, or refinish it, and it could even be stronger and more durable than a wooden fence. The most you'll ever have to do for a vinyl fence is spray or scrub it when it collects dirt, mud, or grime. For an alternative low maintenance option, you might consider aluminum, which offers the classy look of wrought iron fencing without all of the necessary upkeep.
Design conscious
Maybe you're particularly keen on aesthetics and want something that will really boost your curb appeal. In reality, vinyl, wood, aluminum, and iron fencing can all offer major curb appeal, but wood and iron do this especially well. Wood fencing is stunning because it comes in a variety of hardwoods, stains, and finishes, and it lends a time-honored, classic look to any property. Iron, meanwhile, has a uniquely sophisticated look that can be accented with all kinds of flourishes.
Reserved
Do you value privacy above all else? If so, then wood or vinyl is probably your best option for fencing. Wood fencing can be installed with boards on alternating sides for near-complete privacy, or with boards installed next to one another to create a completely private wall. Vinyl fencing is very much the same way; slats can be positioned near each other for near-total privacy, or you can opt for vinyl fencing "walls" for absolute, total privacy.
Budget oriented
Do you most value getting the biggest bang for your buck? If so, then vinyl and aluminum are two affordable, yet both very different options for you to consider. Both of these options offer a look that resembles a more expensive fencing option, all while coming in at a more affordable price (and potentially with less maintenance—another way to save on cost.)
Visit our project gallery to see which fencing material might best appeal to your taste.