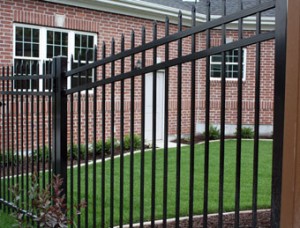 Our aluminum fencing is the best available. We use only commercial grade aluminum as it is thicker, stronger, and more durable than any other aluminum fence you can find. Aluminum fencing is also lightweight and rust-free. The classy wrought-iron look adds value and curb appeal to your home with none of the maintenance of a traditional wrought-iron fence.
Aluminum fencing is ideal for many situations. It is a popular choice for both residential and commercial use. It is easy to clean, weather-resistant, and requires little maintenance. It is the perfect fence for the pool, as you won't have to worry its stability and ability to hold up to the elements.
Our aluminum fences come in 15 different styles, and 4 different heights, making it easy to personalize your fence to fit your style. We also offer a Super Durable Polyester Finish, which can outlast any other available protective coating. Many Homeowner's Associations have begun to require members to use aluminum fencing as it creates a uniform and classy look throughout the neighborhood.
See below for examples of our aluminum fences.