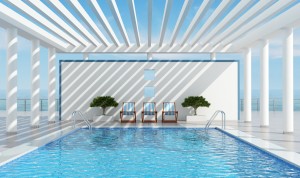 Pergolas are a unique, practical, and decorative garden structure that provides ample shade without the aesthetic distraction of a bulkier backyard structure. Originally, pergolas were built to train woody vines through the crossbeams and create a natural garden roof to cover a garden walkway, evoking the natural beauty of its garden surroundings. As they continue to increase in popularity, modern pergolas tend to ditch the implementation of vegetation and apply the simplicity of their four-column structure and simple angles to achieve a sleek, open concept design.
Pergolas are prized in today's market for their versatility, energy efficiency, and aesthetic simplicity. When added to a deck, they can create continuity between indoor and outdoor spaces and extend the coziness of your home to your backyard. When made free standing, pergolas can provide a variety of functions while adding dynamic flare to an otherwise dormant outdoor area. Whether it be for your fire pit, picnic area, or swimming pool, a pergola can provide ample shade and add dynamic flair to an otherwise dormant outdoor space.
Our vinyl pergolas can be designed to match any home, backyard or deck. Avoid that hot summer sun and rediscover the charm of the outdoors! Call us for a free consultation and find out how a pergola can enhance your home.